High Intensity Grade Reflective Sheeting - 150' rolls
Click To Enlarge
**Meets new MUTCD reflectivity requirements** Nikkalite Brand High Intensity Grade - Type 3 retro-reflective sheeting is a beaded material that renders very high retro-reflectivity at night. It over three times as bright as engineer grade films and is designed for sign backgrounds but can be used in a variety of applications. It is highly resistant to the extremes of hot, cold, dry, and humid weather conditions. Signs sheeted with Nikkalite High Intensity Type 3 sheeting are both attractive in appearance and highly visible during both day and night. This contributes greatly to driving safety. This sheeting is available in seven standard colors with a pre-coated, pressure-sensitive (PS) adhesive. The colors are White, Yellow, Orange, Red, Blue, Green and Brown. A honeycomb design in the material designate it as high intensity grade. The honeycomb cells contain high index glass beads for maximum reflectivity.

The high intensity sheeting rolls come in 150' lengths and in 12", 24", 30", 36", and 48" widths. This film is tough and difficult to cut with a vinyl cutter. It is best suited to be used as a background. (Engineer or super engineer grade would be used for the lettering.) The reflectivity is 250 candlepower for the white. The colors available are white, yellow, red, blue, green, brown and orange. High Intensity grade sheeting carries a 10 year warranty from the manufacturer. It is designed to meet MUTCD requirements for all ground mounted signs at a much lower price than diamond grade films.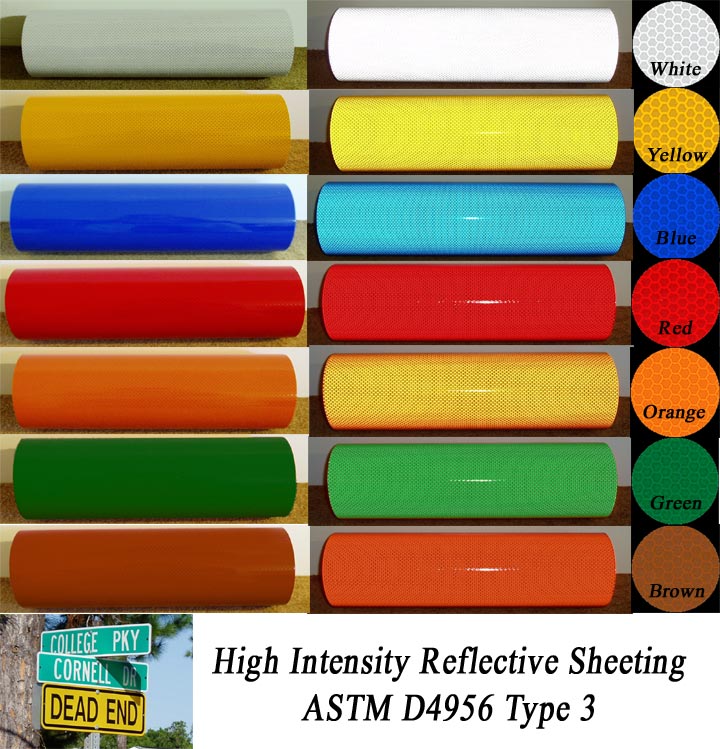 Prices are as follows.
12" x 150' Roll - $399.99
24" x 150' Roll - $799.99
30" x 150' Roll - $999.99
36" x 150' Roll - $1199.99
48" x 150' Roll - $1599.99
You can make your color and width selection by using the drop down menus above. Rolls on this page are 150 feet long.